Through art, our Friends are given the opportunity to improve fine and gross motor skills, stimulate intellectual growth, feel connected to a group and accepted by their peers. The use of art promotes imagination, self-expression and creativity while providing a refuge from expectations and evaluation by others. Artists at Mariposa Place are given the opportunity to display and sell their artwork for profit throughout the United States. Help support our individual and group artists by shopping in our online store.
"When you buy something from an artist you're buying more than an object. You're buying hundreds of hours of errors and experimentation. You're buying years of frustration and moments of pure joy. You're not buying just one thing, you are buying a piece of a heart, a piece of a soul…a small piece of someone else's life." – unknown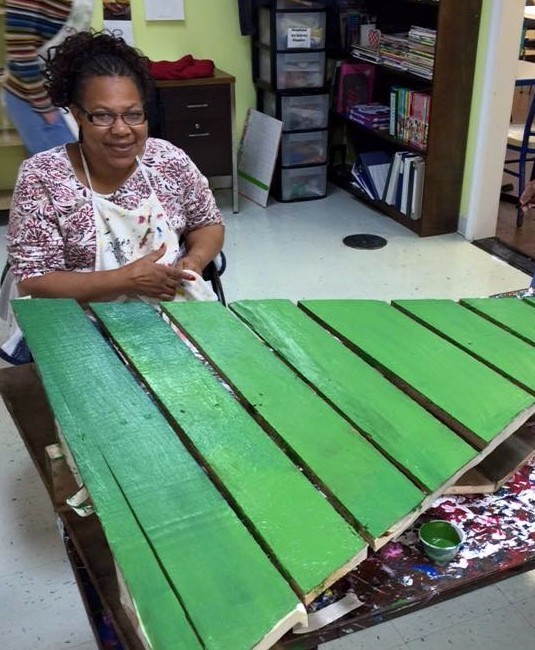 Rosemary
I love to color. My favorite is coloring in large Crayola books with markers. I really enjoy shopping and cooking. In my down time I like to do word searches. I have lots of friends and they are all important to me.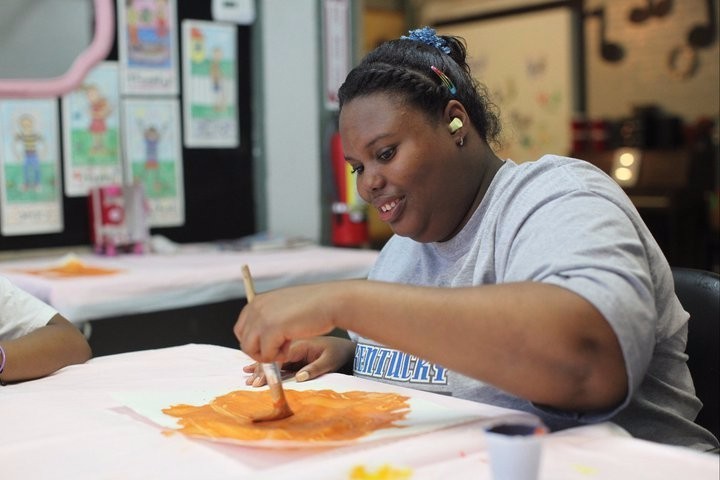 India D.
Painting is important to me. I can paint anything because it makes me happy. I like to play and listen to music. My favorite thing to do at Mariposa Place is play different instruments in Music Therapy. You will always see a smile on my face while painting and playing music.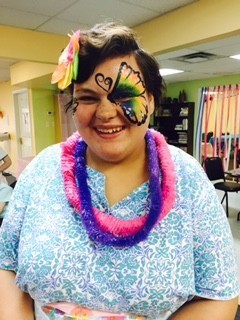 Ashley
I express myself through painting, drawing and writing. I have many friends and love the time I spend at Mariposa Place. I like different kinds of music, parties and dancing.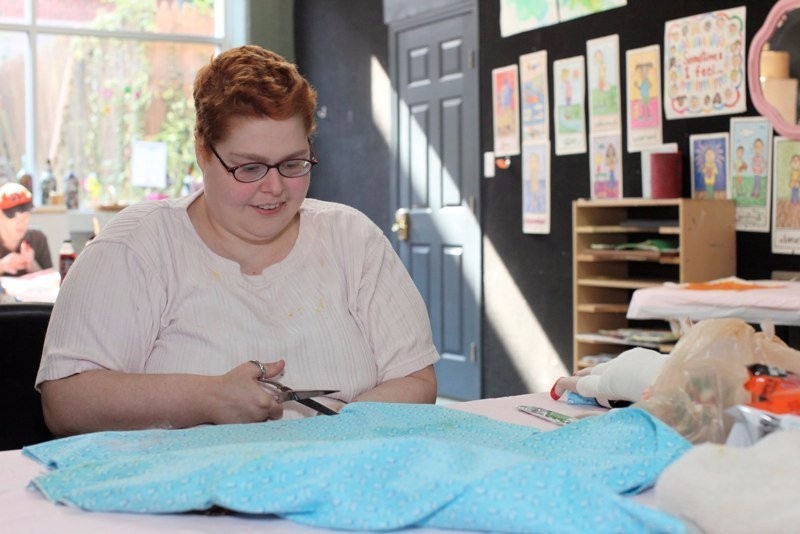 Becky
Cross stich, embroidery and quilting are my favorite forms of art that I like to create at Mariposa Place. I look forward to gardening and sitting outside when the weather is warm. I enjoy cooking and trying different types of food. I love animals. I will take any chance I can get to hold and play with a cat.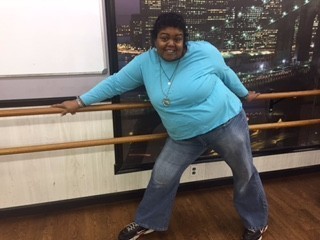 Eda O.
People consider me to be outgoing. I have never met a stranger. My favorite things to do with my friends at Mariposa Place are working out at Planet Fitness, making different types of arts and crafts and all types of group activities.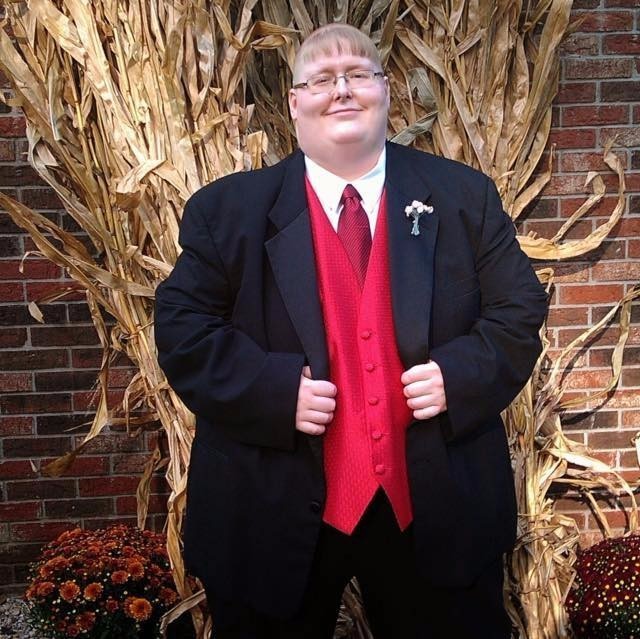 Jeremy
I have my own working station where I create different types of art. In particular, I have a talent of making matching sets of jewelry and illustrating comic books. I enjoy all different types of technology and take pride in those I own. Playing games, being on social media and texting with friends is important to me.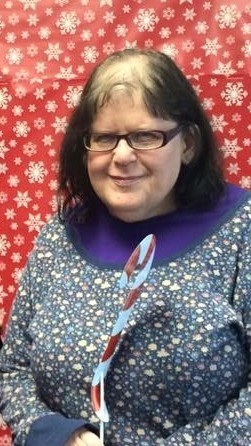 Terry
Family is the most important thing in my life. I am very close with my sister. We talk daily on the phone, stay with one another on the weekends and hang out together at Mariposa Place. Elvis is my favorite celebrity. Taking a trip to Memphis, TN to see Graceland is #1 on my bucket list. In my free time I like to crochet and watch old movies. I will crochet while talking with my friends and feed the chickens when I am at Mariposa Place.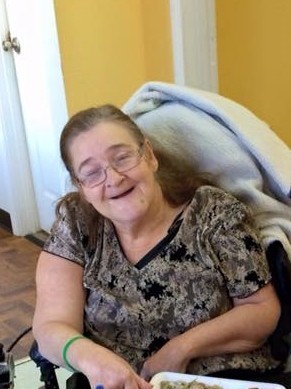 Donna
I love to socialize and go to different places in Louisville. Spending time with friends is important to me, which is one of the reasons why I go to Mariposa Place. We go to dance studio classes, make beaded necklaces, shop at local stores and attend Music Therapy together. I look forward to Fridays when I play bingo. Pull tabs is the best way to win money. Trust me, I won $700.00 once and consider that day to be the best so far at Mariposa Place.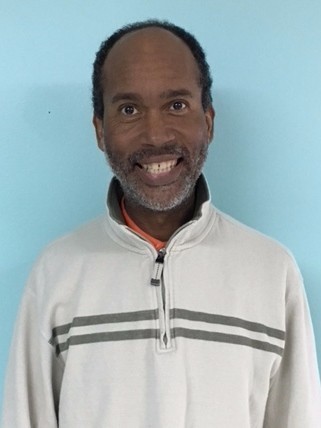 Barry
I take interest in history, religion and culture, which I enjoy talking about with my friends. Imagination is what inspires me to create art. Being helpful is important to me. Most people do not like to clean but I enjoy it. I am the guy who will help with housework, hold the door open for others and always be polite.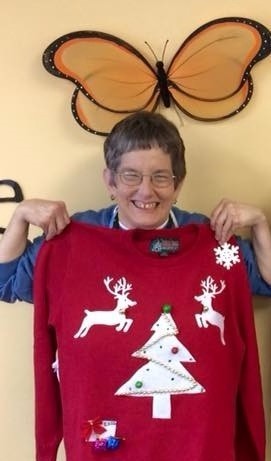 Melanie
Mariposa is a great place for me to talk with my friends. They are there to listen to me and make me laugh. I like going shopping and to going to Planet Fitness with them. Though I love to talk, I also enjoy alone time so I can needle point.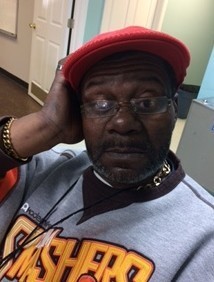 Jeffery
I am a big sports fan. I used to play sports at Churchill park. My favorite team is UofL. I am creative at finding new ways to create crafts. I like to sell my artwork to art shows when I get the opportunity.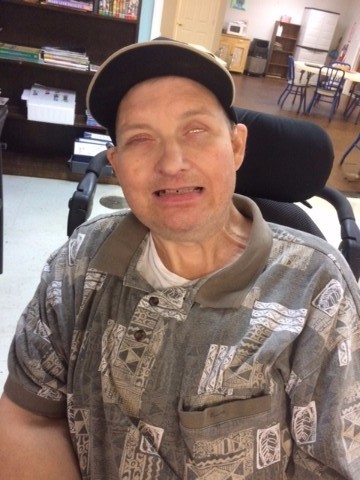 Tony
My name is Tony. I love painting and would love to make more and sell them. I also like playing the guitar and singing and listening to Johnny Cash.